About Devereux Emmet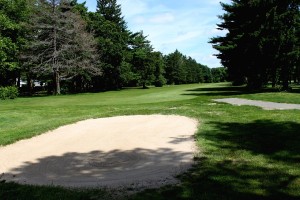 Devereux Emmet (1862-1934) was the son of a judge and a descendant of Thomas Addison Emmet, a founder of Tammany Hall. The Emmet family was listed in Ward McAllister's First Forty Families in America. Devereux and prominent architect Stanford White married sisters who were nieces of financier A.T. Steward.
A prolific course designer in the early 1900s.
Was exposed to course architecture by his friend C.B. MacDonald who, at the time, was working on The National Golf Links (located next door to Shinnecock Hills Golf Course).
Since most of his designs were built during the time of hickory shafts his courses are shorter in length compared to modern day projects.
Devereux Emmet Course Resume
Emmets first design was The Island Golf Links in 1899 (known today as The Garden City Golf Club)
Huntington Country Club in 1910
Cherry Valley Country Club in 1916
St. George's Country Club in 1917
Rockaway Hunting Club in 1921
Glenn Head Country Club in 1924
Rockville Links Club in 1925
Seawane Club in 1927
Huntington Crescent Club in 1931
Other Projects
Other projects consist of Pelham Country Club, Leatherstocking Country Club, Leewood Country Club, Lenox Hills Country Club (Green at Bethpage), Wee Burn Club in Darien, CT & Congressional Country Club, (near Washington DC).
Courses in Americas Top 100

Garden City Golf Club, Number 40
Congressional Country Club, located outside of Washington DC, Number 61